GEMS BOND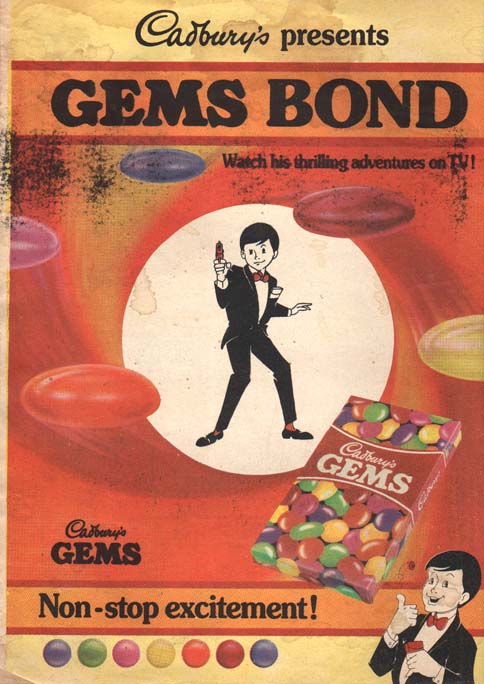 In a moment of inspiration, Cadbury created a mascot for their Gems chocolates... Gems Bond! You see? Like James Bond, but his first name's Gems instead of James! Because James sounds kinda like Gems and the name of the chocolate was gems and he was always eating Gems all the time.
Seriously though, Gems Bond was a pretty cool character... both in print and on TV you'd see him doing all these cool spy things with a Gems twist to them. Like when he's being followed by some bad guys in a car... he'd throw them off not by using his supercar to shoot oil on the road, but by using it to shoot Gems on the road. This would, for example, cause the bad guys to swerve off course and crash. I tried throwing some Gems on the road when a car passed by: they didnt crash, the car just kinda ran over and squashed the Gems.
This advertisement is from the "cool" Gems Bond phase; when he was still a spy-kinda-guy and his name kinda made sense. Cadbury was to fuck this up soon after by converting Gems Bond into a space-age superhero. Turns out the secret agent thing was just a cover, he was really a superpowered guy who derived his power from these jewels that looked a lot like Gems. Strangely enough, this new character was still called Gems Bond. I think this is the time when a lot of people stopped eating the things.