Close your eyes. Take a deep breath. We're about to embark on a magical, mystical journey. Oh, what the hell... nothing I say could possibly explain what you're about to see. Let's just dive right in, and somewhere along the way try and retain control of our senses.
Ladeez and Gentulmen... without further ado, I present to you: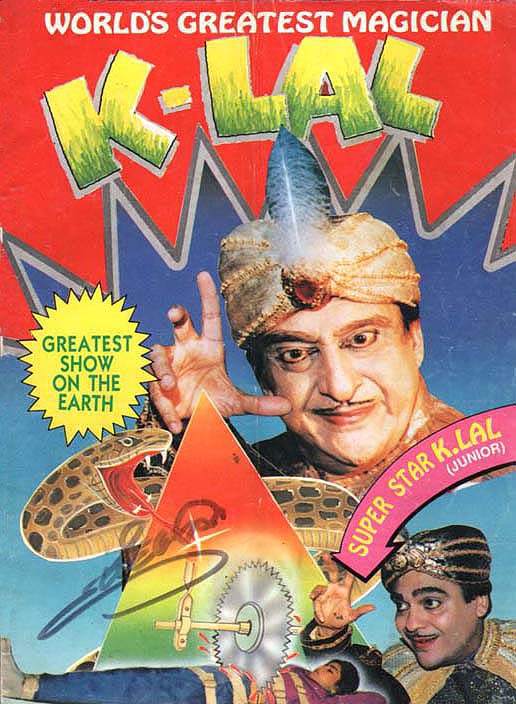 Greatest show on the earth! And don't miss Super Star K.Lal (Junior)! I don't know whose signature that is, though. I can only fantasise that it belongs to K-Lal, or even Super Star K.Lal (Junior)... hell, I'll be happy if it belongs to that girl who can sleep so peacefully while cartoon blood spurts from her intestines.
I remember going to a K-Lal show as a kid, and also recall getting a little souvenir magazine like the one we're looking at. It hasn't changed much. There are lots of pictures of K-Lal and Super Star K.Lal (Junior) from their previous shows, and you bet your ass we're gonna look at them. But first, a little about these two zany fellows. I copy verbatim from their bios in the magazine: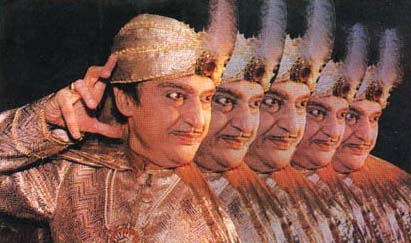 WORLD'S GREATEST MAGICIAN K.LAL (Sr.)
Over the years K.lal has earned many an honours. Some of them are the rarest of rare honours. He has been honoured with the titles like, "THE INDIAN PEACOCK" award by "MICHAEL Madhusudan Trust" & "KRANTI-VEER", "GURJAR RATNA", awards were conferred upon him by various State Governments of India.
Magicians of India regard him as "BHISMA PITAMAH" (a legendary character in the Indian epic "Mahabharata") or father of Indian Magic. At present, Mr. K.Lal is the living legendary of the history of Magic. He has elevated the Art of Magic to such great hieghts that K.Lal has become a house hold name all over the world.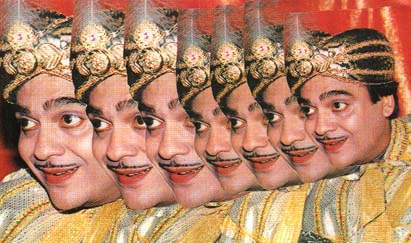 SUPERSTAR MAGICIAN K.LAL (Jr.)
Following in the footstep of his father and great magician in his own is Junior K.LAL. He has been involved in the world of magic since long and performing side by side with his illustrious father, he has proved to be a force to reckon with. Jr.K.LAL is the pivot magician in Asia who has introduced wild animals like Lion, Panther, Tiger, Chittah, Crocodile & Elephant in his magic shows and performs with them in so magnificent manner that each magic show becomes a life time experience.
With the glittering personality of an Indian Maharaja and Indian Prince both father and son possess an ever smiling face. They have changed the conception of what magic is for all times. It is no exaggeration to say that this magician pair of father-son has redefined the art of magic and their years of hard work and dedication have brought them fame and name in the whole world. They both have become synonym with the word Magic, magic personified.
Wow. Wait... let me say that again:
WOW!!
You might think that the writer of the above paragraphs maybe got carried away by the hyperbole, seeing as the magazine is printed by K-Lal and all. Just to prove that wrong, then, we're gonna see K-Lal (and Junior) in action! For example, look at this next trick. Unbelievable!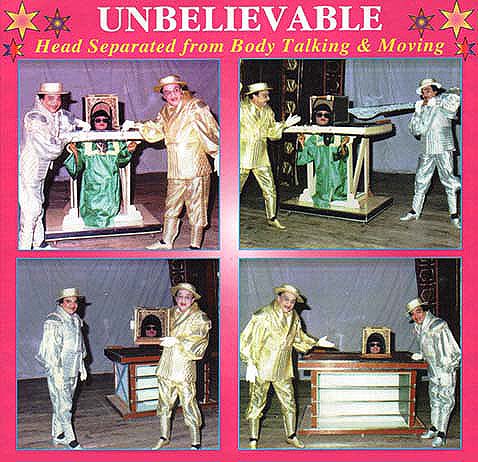 Awww... aren't they just adorable?? By the way, I should say something about the quality of some of the pictures in this feature. Most of them were really small, and didn't scan too well. Still, you don't need crystal-clear images to be astounded by the wonder of this next picture: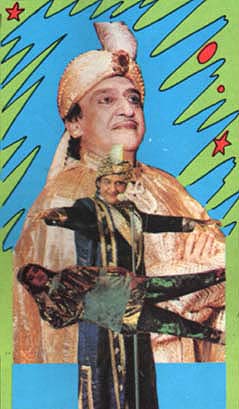 Don't even think for one second that this is just a photo of a regular girl, rotated horizontally and superimposed. That would be silly.
Besides being the world's greatest magician, K-Lal is also a master of disguise. Here you can see him dressed as a sadhu for one of his tricks: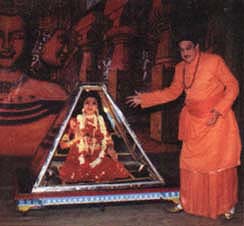 And here, as an Egyptian Arab: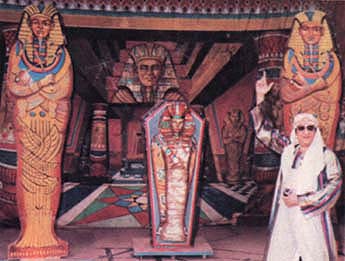 As you can see, there is no end to K-Lal's talents. In part two of this feature, we will see some of the stupendously fantastic tricks performed by K-Lal and Super Star K.Lal (Junior). But first: more pics!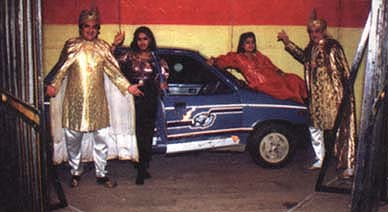 Kings of the Bling
And let us end this page with a picture that symbolises the wonderful male bonding only a father and son can share when working together, on the road. Real men don't need leather jackets.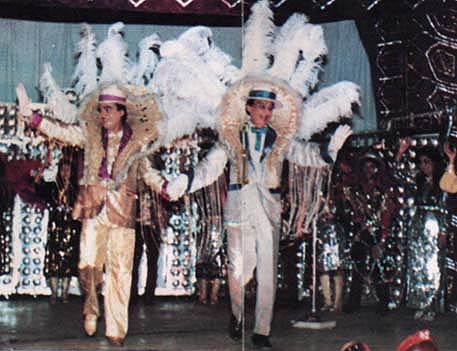 Become a magician, they said... It's a man's life, they said...