Before reading this, read our previous Chacha Chaudhary reviews:
Funny Football; Revenge; Fool's Paradise
We've seen some weird Chacha Chaudhary comics in the past, but what you're about to see will blow you away. Yes, it will cause you to lose your mind. When your brain recovers from the onslaught, the lucky ones among you will be able to retain some sanity by becoming sannyasins, but the rest will wander the streets with no recollection of their former lives.
As we have learnt by now, Chacha Chaudhary is the absolute king of shitty comics. But this is no regular, everyday shittyness... Chacha Chaudhary is so shitty that it is actually fun to read! How many other comics do you know that are the centre of their own cosmic paradox?
Still, nothing can prepare you for what you're about to see. Finally tired of pitting him against pedestrian villians with names like Changu and Mangu, Pran (in his infinite wisdom) decides to have Chacha Chaudhary face off against the most famous villian in Indian cinema - Gabbar Singh!
Yes, that's right. Gabbar Singh. The dacoit leader from the 1975 movie Sholay! The story begins with Gabbar breaking out from police custody, meaning this story actually takes up from where Sholay left off. So if you've ever asked yourself, "Who would win in a fight - Chacha Chaudhary or Gabbar Singh?" you're about to find out. Come on, don't say you've never thought about it.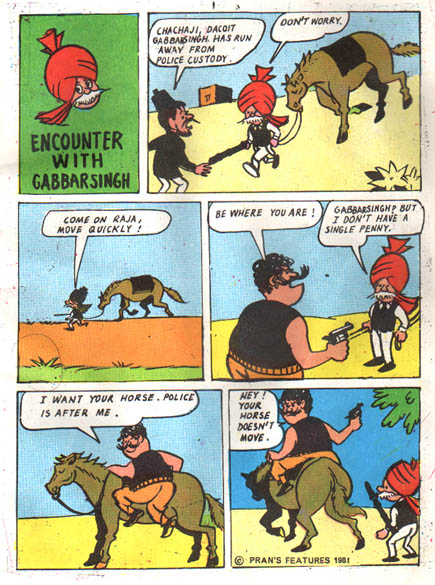 I wish I could say that the lameass artwork in this comic is a side-effect of it being published in 1981. But unfortunately, all Chacha Chaudhary comics look like this. This is even weirder if you read the intro page, where it tells you that Pran, "heart-throb of millions of comic lovers", has a degree in fine arts.
But look at the incredible amount of story they've compressed into one page. In five frames, we've gone from Chacha Chaudhary aimlessly leading a horse around town to Gabbar Singh sitting astride said horse, trying to get it to move. What I admire about this page most is the attempt to beautify shitty drawings with even more shitty artwork. Like the flowers in the bottom-right corner on the first frame. And like the - my god! Look at the second last frame... Gabbar Singh is smiling! But that's short-lived, as he gets pissed off again because the horse doesn't move.
What will happen next? Go ahead, click "next". You know you want to.