Before reading this, read our previous Chacha Chaudhary reviews:
Funny Football; Revenge
I had no idea about this, until I saw it in a comic just a little while ago... but yes, Chacha Chaudhary has a twin. As you can imagine, I almost wet my pants with excitement. This is exactly the kind of trivia you can use to win bets. Throughout this comic, for some reason, they spell Chaudhary as Chowdhary. Don't ask me why. I just thought I'd mention it in case you see me referring to Chacha Chaudhary and assume it's a typo. Beware.
Our story starts far away in space. Actually it starts on Mars, where all the men wear skirts. Maybe it wasn't a good idea for them to describe Mars as "far away in space", especially since by now we're pretty much used to one of the leading characters being a 50-foot, bald, earring-wearing, underwear-parading giant from Jupiter, which is at least 10 km further from the Earth than Mars is.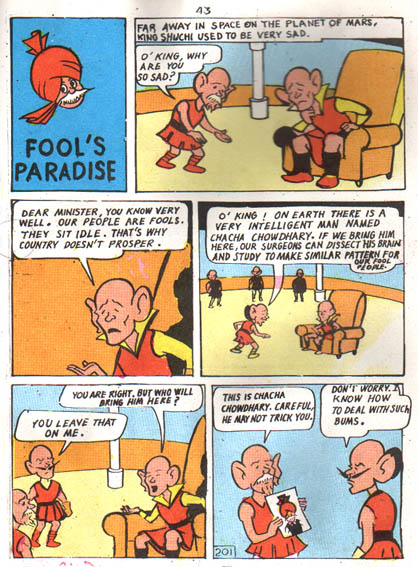 One of my favourite things about Chacha Chaudhary comics is the incredible lack of effort that goes into drawing it. And at the very bottom of priorities are the speech balloons, which are pretty much there as afterthoughts. As a result you have all these funky things happening in and around them. Like in the third frame - "our fool people" is crammed into that little remaining space, on in the last frame on the page, where the entire speech balloon overflows outside the comic because the letterer misjuged the space and was too lazy to do it again. There wasn't enough space for an upper-case H so they decided to use a lower case one. Awesome.