BOROLINE ANTISEPTIC PERFUMED CREAM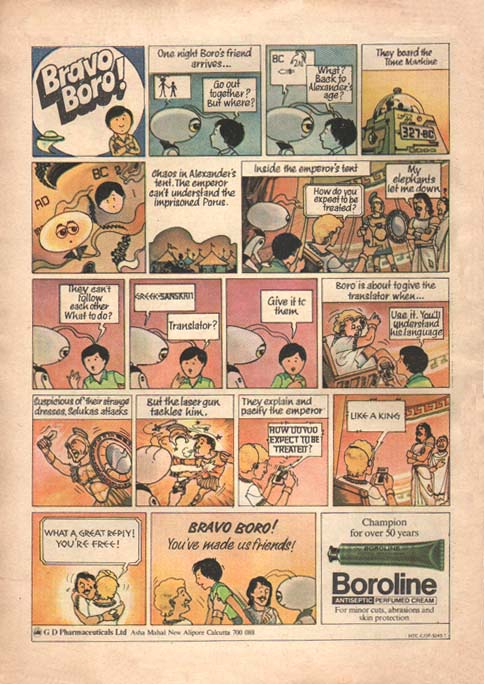 This ad has nothing to do with antiseptic perfumed cream, and hey, thats okay! Because we were just glad that the Boroline people decided that we should have an interesting comic to read. We may never buy their cream, but we would know their heart was in the right place. And maybe someday, decades later, we'd smile.
The only connection this story has with Boroline is that the alien's human friend is called Boro. Speaking of which, I think it's totally cool that he communicates by touching his antennae to the kid's head and transmitting images. It's little things like that which count. Anyway, the action in this story is set during that historical incident every schoolkid in India learns about - Alexander's defeat of Porus in the Battle of Jhelum.
Apparently if our friends hadn't shown up there with their universal translator, Alexander would never have understood Porus' dignified request to be treated as a king. Porus, on the other hand, would have kept babbling in Sanskrit about how his elephants let him down. Yes Porus, it was the elephants. Whatever you say.
This story is cleverer than you think, though. They could have shown any unnamed generic general attack our heroes, but the writer chose Selukas, which is an alternate spelling of Seleucus Nicator, who was a Macedonian general who accompanied Alexander into Asia, founded the Selucid dynasty of Syria and the city of Seleucia on the River Tigris. Not bad for a bit player in this story.