Fusen Gum. Never have two words carried so many memories. It may not be the first thing you recollect about your childhood, but mention Fusen Gum to anyone who was a kid in Bombay in the '80s, and you'll see a distant smile usually reserved for first crushes. Fusen Gum wasn't even made in India... it was a Japanese import, but it was so commonplace and so affordable that we never even thought of it as foreign. Kids opened up their hearts to Fusen, and in their hearts it still abides.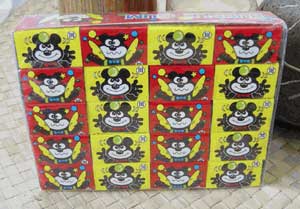 Fusen Gum in its two packagings; red and yellow. The gum inside was exactly the same, but I always preferred the red covers. Perhaps someday psychologists will be able to tell a lot about someone by observing which colour Fusen they reach for first.
When I was very young, I thought that wacky Fusen Gum mascot was Mickey Mouse. I soon realised my mistake, though... this guy was much more hardcore than the Disney mascot. The Fusen Rat was like the extreme psycho version. This guy levitates spheres with his mind and smashes his face between cymbals for fun. How could we not buy his gum?
Come to think of it, I've never seen an advertisment for Fusen Gum. Not on TV, or in newspapers or magazines... not even billboard ads or flyers. This gum has been around forever (I can't recollect a time before Fusen Gum) without any sort of marketing whatsoever... it gets by purely on word of mouth! It's that good.
The wrapper tells me that Fusen Gum is made by a company called Marukawa, in Nagoya, Japan. It could be made in the Enchanted Forest on Third Earth for all I know... but what I really love is that name, Marukawa. Just say it. Marukawa!!!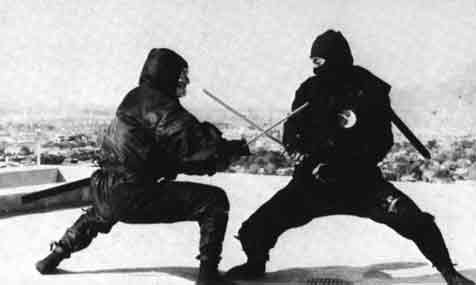 Marukawa!!!
If you ask me, Fusen Gum rocks the socks off any of these new bubblegums realeased in recent years. And it's not just childhood nostalgia here... Fusen Gum is unlike any other gum I've had. Firstly, it has this incredibly soft consistency. You know all those things you do with bubblegum in your mouth... like put it between your teeth and lips and squish it? With Fusen Gum that takes on a whole new meaning. You could apply a little pressure around your mouth and this thing would go snaking around your entire upper gums!
The other thing about Fusen Gum was it's smell... it has this awesome smell which totally overpowers you. Even through the wrapper. You can sit around and sniff this shit for hours, oblivious to the world around you. It's like it grabs hold of your senses and beats them around inside your head until every thought in your body is concentrated on devouring that Fusen Gum.
But all this talk is getting me distracted, so let's do what we're all thinking about doing. Let's open a Fusen Gum.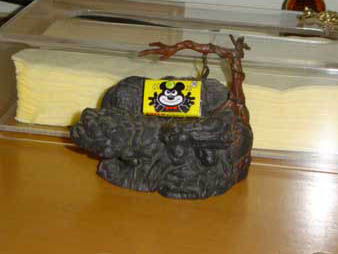 There it is, in all its sealed glory. Don't be quick to dismiss it because of its size... that two inch piece of gum is a bonafide piece of heaven. Let's open it.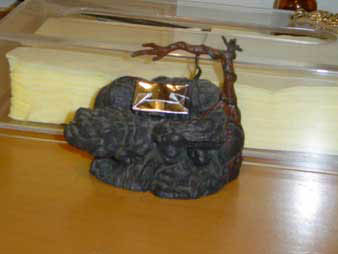 Remember what I said about the overpowering smell of Fusen Gum? Through the wrapper it's just about enough to get you buzzed, but you can still retain your sanity. But when the wrapper is off and all that stands between you and the Fusen is that thin foil, the scent gets so incredibly strong that it digs its way through your nostrils and burrows itself into your brain. You won't be able to sniff this for longer than a few seconds before all you can think of is tearing that goddamn foil away, jabbing the Fusen Gum into your mouth and chewing the shit out of it. Mmmmmmgrrrrrmunchmunchmunchmunch. numnum.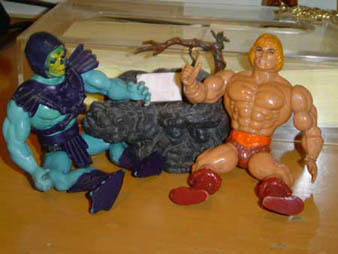 There it is. Naked in its pristine natural beauty. The one gum that can bring Skeletor and He-Man together. Fusen Gum, we salute you.
But wait! Don't throw that wrapper away! Because guess what, it's not just a wrapper... no, it's also a tattoo! Holy shit, if you weren't sold on this gum already, consider this... every piece of gum comes with its own unique water-based tattoo! Well, maybe there used the same design more than once, but I never got doubles. And these weren't your regular skull-and-crossbones or hearts; this was the wildest Japanese shit you can imagine... funky robots and space ships, and sometimes weird-looking alien animals... I could go on and on. Let's see what we got: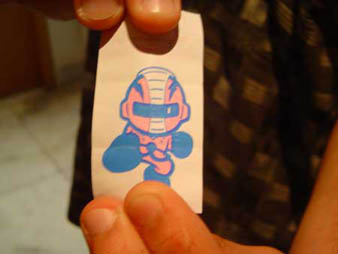 Right. Let's get this thing onto our skin. The directions are simple... let's see them again: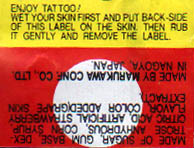 See, that's the problem with the newer bubblegums. They don't have ENJOY TATTOO. If kids are given a choice between a normal bubblegum and a bubblegum with which they could also ENJOY TATTOO, I don't need to tell you which one they'd choose. Anyway, the instructions seem pretty easy. So I shall now wet my skin and put back side of label onto it.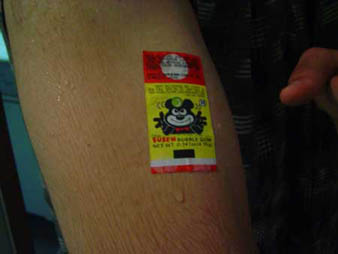 Alright, the label's been on for about a minute now, which should be enough time. I rubbed it gently like they asked, and now I can hardly wait. Time to peel it off. Time to enjoy this tattoo!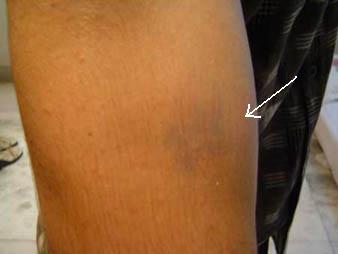 What the--??
Ah well, what do you expect for 2 rupees? To be honest, I don't remember the Fusen Gum tattoos coming off quite this shitty. But then, it's been a long time.
Erstwhile schooltime luminaries like Simba Chipniks and cold drinks like Thril and Sprint have disappeared, but Fusen Gum is still readily available eveywhere in Bombay. So go on, buy yourself a Fusen. And buy some for your friends; they'll love you for it.
Bonus!!! The Fusen Gum Tattoo Gallery!!!
Here are some more Fusen Gum tattoos, scanned for your viewing pleasure. Because sharing is caring.