Greetings, true believers! First off, let me apologise to those of you who tried logging on to this site over the last few days... the number of people that have been visiting the site has been increasing for a while now, but last week saw an unprecedented jump in traffic - the result being that my bandwidth went for the proverbial toss. However, Scotty seems to have the engines back on, and we are now at Warp Seven proceeding towards the Gamma quadrant on schedule.
So yeah, lets talk about Champak. Champak was one of your more substandard childrens' magazines around... the ones you'd read when you wanted to slack off but there was no Tinkle in sight. Make no mistake, though; even as kids we knew that what we were reading was quite, quite shitty.
The magazine had a mixture of comicbook-style stories and short stories. They all had the kind of shitty English that we know and love, but the really irritating thing about Champak was that it always had this moralistic tone to it. I swear, almost every story there had some fuckin' character-building theme to it.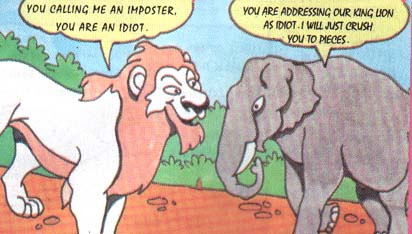 Champak was full of rivetting dialogue like this.
So when I came across an issue of Champak the other day, I went in fully prepared for the assault on my brain. Or so I thought. What I found chilled me to the bone. In their zeal to build my character, the Champak people went too far. They stepped over the line and attacked good old rock 'n roll.
But I'll let you see that and discover this outrage for yourself. What is of particular interest, however, is that it seems to have been written and drawn under the influence of some extremely illegal substances. A little too psychedelic, especially for a story that supposedly condemns the rock 'n roll lifestyle. But you can judge that for yourself: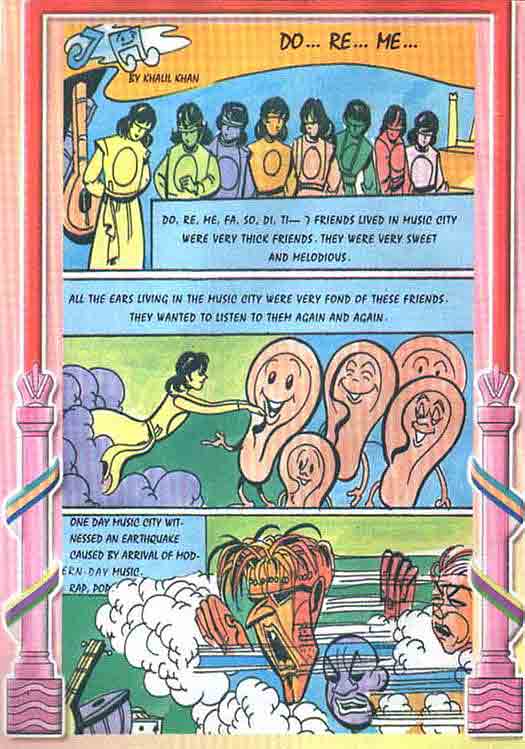 Let's not talk about the colours. Let's not talk about the clouds and trippy swirls. Let's not even talk about the gigantic humanoid ears and the swirling pillars that frame the whole damn thing... you want evidence that this story was written by someone who was high as a kite? It's right there in the names of the notes. Do, Re, Mi, Fa, So, Di, Ti...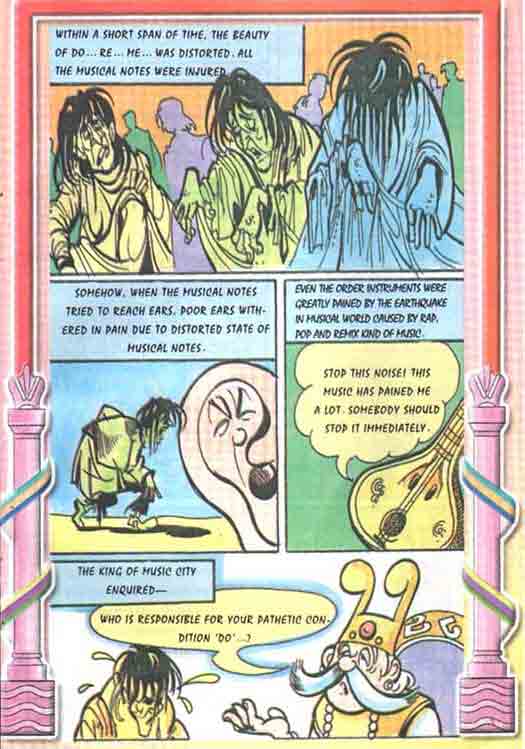 We already know the answer to that question, don't we? It's "rap, pop and remix kind of music". Scroll up and check them out again as they make their entry into Music City. If they entered in the order they were named, then the big wild yellow head is Rap; the bald, blue guy is Pop; and the red guy trailing behind is Remix Kind Of Music.
We're only halfway into this story... click "next" to see what happens!